The Air Operator Certificate (AOC) and Operating License were received at a record-breaking pace by Marabu, the newly founded airline in Tallinn, Estonia. Estonian authorities were thanked by Marabu's CEO, Paul Schwaiger for their cooperation that enabled Marabu's establishment in only four months.
The digitalized Estonian society and efficient working of the Estonian Transport Administration was praised by Schwaiger, as it's the ideal environment for new companies to start up. Marabu's electronic birth took place last week in Tallinn after applying for the AOC in January.
Marabu partnered with Nordic Aviation Group to receive various operational and support services, and three fuel-efficient Airbus A320neo aircraft operated by Nordica. The first flights connect travelers from Munich and Hamburg to popular holiday destinations and its home in Estonia.
Marabu's first commercial flight occurred on April 15th. Marabu's AOC issuing was welcomed by Tanel Rautits, the Head of Safety and Supervision Department at the Estonian Transport Administration. Competence and team spirit were praised by Jan Palmer, the CEO of Nordic Aviation Group, allowing the establishment of a new Estonian airline in a record short time
Roadmap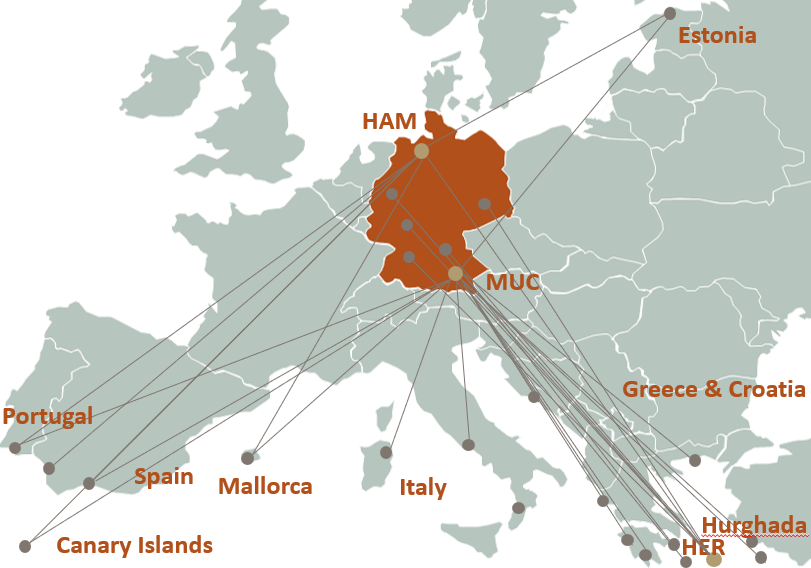 Marabu's route map for summer 2023 showcases its ambition and its aim to connect people to various holiday destinations. The airline's first flight to Tallinn from Munich is scheduled for May 21st, and the first flight from Tallinn to Hamburg will take off on June 16th.
The successful establishment in Estonia will have a significant impact on the country's economy, creating job opportunities and contributing to the country's growth. The airline's achievement is a testament to Estonia's friendly business environment and efficient administration.
We congratulates Marabu on this fantastic achievement, and we wish them all the best on their future endeavors. Let's continue to support each other and soar to new heights together! Croowy is a proud partner of Marabu airlines for crew acoommodation.